:::Follow Us:::

Facebok: https://www.facebook.com/apkgod/
Twitter: https://twitter.com/apk_god
Instagram: https://www.instagram.com/apk_god/

Main Site: APKGOD.NET




Torrent Based On: https://apkgod.net/system-mechanic-pro-18-crack/




System Mechanic Pro® - The Ultimate PC Performance Package™. Patented technology for maximum speed, power and stability. Fixes frustrating errors, crashes and freezes. Certified virus protection and data security.

Blocks Malware
Certified anti-virus/anti-spyware blocks the latest threats using advanced dual-engine security.

Protects Privacy
Safely and permanently removes your most sensitive files with military-grade data wiping technology.

Recovers Data
Retrieves many lost and accidentally deleted files including photos, videos and documents.

Removes Bloatware
Identifies unwanted startup programs that slow you down by launching and running without your knowledge.

Boosts Speed
Automatically increases the speed and availability of CPU, RAM and hard drive resources when you launch high-demand apps for the smoothest gaming, editing and streaming.

Repairs Problems
Finds and fixes over 30,000 different problems using intelligent live updates from iolo Labs™ to keep your PC stable and error-free.





System Mechanic Pro 18 Features:

ENHANCED System Shield®
VB100-certified antivirus solution deploys malware signature detection and behavior-monitoring heuristics for the most advanced threat elimination yet.

ENHANCED DriveScrubber®
Privacy protection designed to permanently erase sensitive data after it's deleted.

ENHANCED Search and Recover™
Retrieves many lost and accidentally deleted files from PCs, cameras and more.

ENHANCED ActiveCare®
Advanced cleaning and repair removes more unsafe clutter and fixes more problems than ever before, going to work whenever your PC is idle.

NEW Modernized Interface
Redesigned look is the easiest version to use yet, featuring larger text, faster loading and simplified features menus.

ENHANCED LiveBoost™
Adjusts dozens of Windows settings for greatly improved processor, memory and hard disk stability and performance.

ENHANCED PC Cleanup™
Cleans up over 50 types of junk files.

ENHANCED Privacy Cleaner™
Wipes internet and chat history, clutter and cache.

ENHANCED Registry Tuner™
Defrags, compacts, optimizes and backs up system registry.

ENHANCED Program Accelerator™
Re-aligns and defragments disjointed program files for the very fastest access.

ENHANCED Startup Optimizer™
Blocks bloatware at startup to accelerate boot time and improve system performance.

ENHANCED NetBooster™
Speeds up Internet, videos, downloads and games.

Memory Mechanic™
Reclaims wasted RAM in real time.

Security Optimizer™
Finds and plugs Windows security holes with the latest available patches.

NEW Privacy Shield™
Lets you turn off aggressive Windows personal data collection services otherwise difficult to disable.

Incinerator™
Safely and permanently deletes unwanted sensitive files.

Requirements: Works with Windows® 10, 8.1, 8, 7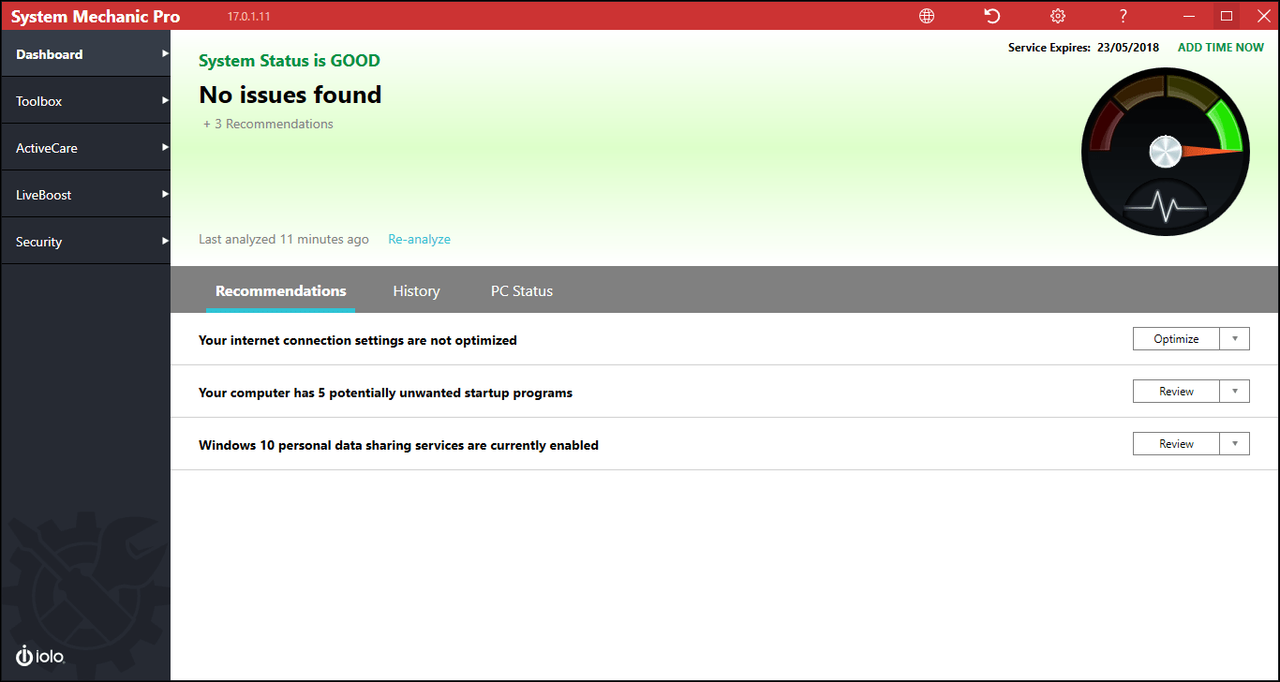 #apkgod -> To avoid fakes, ALWAYS check that the torrent was added on ExtraTorrent.ag by apkgod
https://extratorrent.ag/