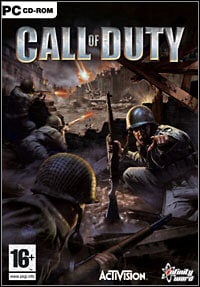 Call of Duty (2003) (PROAC) (PL EN)

Zawartość:
Call of Duty (2003)
Patch 1,5
Spolszczenie
Wiśnia na single i multi player
Waga:1,32 GB

Gra akcji/FPS rozgrywająca się w okresie II Wojny Światowej. Można wcielić się w rolę
amerykańskiego spadochroniarza, brytyjskiego komandosa lub rosyjskiego piechura i poczuć
klimat tego okresu historycznego.


Wymagania sprzętowe Call of Duty:
Rekomendowane: Pentium 4 1.6GHz, 256MB RAM, karta grafiki 32 MB, 1.2 GB HDD

==============================
Po kolei wgrywasz:
1.Grę z 2 x cd (klucz w folderze deviance\KeyGen)
2.Patch
3.Spolszczenie
4.Wiśnia SP
5.Wiśnia MP
Grasz single i multi.....
#PROAC -> To avoid fakes, ALWAYS check that the torrent was added on ExtraTorrent.ag by PROAC
https://extratorrent.ag/